__________________________________________________________________________

Workshop and Special Classes Descriptions
Following are descriptions of workshops and special classes held at the Body Mind Awareness Yoga Studio over the last 20 years.


Athletes Sustaining a Healthy Body Through Yoga
This workshop is for people with any amount of yoga experience, beginners to advanced, who want to sharpen their athletic skills. You will learn how to incorporate yoga into your workouts to move in alignment, build strength, and prevent injuries. You will practice mindfulness to improve how to move and focus attention. And you will learn specific poses for people who practice running, swimming, skiing, volleyball, tennis, and golf.

From Chaos to Calm
The outer world can seem very intense and chaotic. Nevertheless, out of chaos comes great change. Let's harness this chaotic energy to create a new way of being. In this workshop we will learn:
Tools for being more grounded and centered
How to create ceremony
How to transform and transmute the energy behind thoughts and emotions
How to create peace and tranquility
How to improve our relationships
How to meet a power animal, spirit guide, teacher or nature being
Teacher: Mary Luyet
Children's Yoga (ages 8 and Up)
Children are natural yogis. This workshop introduces children ages 8 and up to yoga poses and breathing practices, developing awareness within themselves and for others. In this workshop, we will tap into the inherent creativity that children possess by incorporating yoga games into our practice. We will learn focused breathing techniques that give children tools for self-calming strategies. Skills learned in this class will encourage and develop flexibility, strength, confidence, and awareness.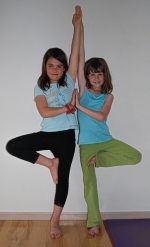 Couples Yoga


Share yoga and explore

poses

together with a partner or

a

friend. In this

workshop,

you and your partner will support each other to stretch further,

hold poses longer, and concentrate more deeply while feeling a stronger connection with each other.



Beginners are welcome.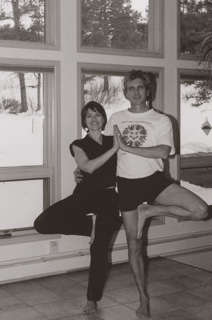 Crystal Healing Workshop
Crystals have been helping human kind throughout history. Learn about their power and gifts in this workshop where you will explore using crystals for healing the body, mind and spirit. A crystal healing allows life-force to move freely through the body, bringing with it a sense of peace, balance and alignment with one's True Self.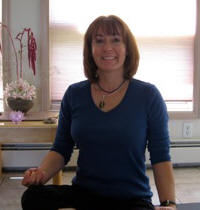 Dru Yoga
Dru Yoga is a gentle, meditative practice which connects to the heart and helps release energy blockages created by anger, fear, and grief. Drawing inspiration from nature,

Dru Yoga's flowing movements, mudras (hand positions), affirmations, and visualizations promote serenity, compassion, joy, and healing. Beginners are welcome!
Vinyasa (Flow) Yoga
Vinyasa (flow) yoga can be an invigorating, exhilarating, and fun way of doing yoga. In this workshop we will start with a floor warming up sequence and end with some seated poses, followed by a restful savasana. The standing sequences will allow us to focus on moving through postures with grace, slowly flowing from one to another, without holding any given posture for any length of time. It is a great class for level-2 level-3 students.
Exploring the Chakras
From a yogic perspective, life is energy. Chakras are energy centers of vital life force (prana). Come learn more about yourself from the incredible viewpoint of your energy body.

We will visit each of the 7 major chakras through imagery, physical postures, and breathing practices, and learn how to bring them into balance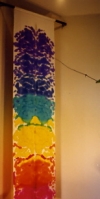 Good Bye My Aching Back
This two-hour workshop will help you rehabilitate your lower back by focusing on increased stability and core strength as well as increased flexibility and mobility so that you can move without pain. Our emphasis will be on a safe and effective yoga practice with particular attention given to understanding proper alignment and posture. We will also include traditional yoga poses that are modified to be back friendly. People suffering from sciatica; bulging, herniated or degenerated discs; scoliosis or other low back problems will benefit from this workshop.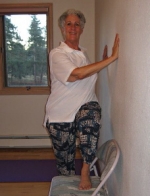 Heart-Centered Meditation (HCM)
Heart Centered Meditation is a very simple approach to sensing the energy of our heart and helping us move from the intellect of the mind to the wisdom of the heart. Through our practice, our connection to ourselves strengthens. It then becomes easier to stay connected to ourselves while interacting with other people and the challenges in our everyday life. We become more adept at living in the present moment.
Drop ins welcome.

Athena Flegas has been practicing HCM with her teacher Mary White since 1998 and teaching HCM since 2005.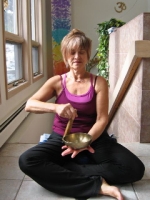 Mala Making
Come together to learn how to make a mala (Sanscrit for garland) used in meditation. We will explore how to make, hold, and chant with the mala. Join teacher Cara York for two fun-filled afternoons. Please purchase the following supplies and bring them to the workshop. (Desert Gems on Wadsworth in Lakewood is a knowledgeable source; call 303-426-4411.)
8mm round beads - 108
Silk thread size FF - 1
Guru bead - 1
Embroidery thread for tassel - 1
Power of Essential Oils
Learn about the power of essential oils and how they can be used in every aspect of healing on the physical, emotional and spiritual levels. Come with your questions and testimonials, and be ready to experience a variety of oils.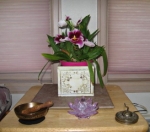 Prenatal and Postpartum Yoga
Maintain physical and mental well being during pregnancy with the gentle practice of yoga. Simple stretching and breathing designed to keep the expectant and new mother healthy. Relieve pregnancy discomforts, prepare for delivery, and regain physical and mental balance after your baby is born. Mothers can bring their newborns. Beginners welcome. Start at any time during your pregnancy.
Restorative Yoga
Restorative Yoga is a great practice to help you stay healthy through the winter and centered as you deal with daily stress. In this workshop you will learn gentle yoga stretches, passive restorative yoga poses, and breathing practices to energize and calm your body, mind, and spirit. This is also an excellent workshop for those recovering from illness, injury, or surgery because these poses will help to boost your immune system. So come and restore your physical, mental and emotional health. No experience necessary, and all ages are welcome.

Women's Yoga for our Changing Bodies - Midlife and Beyond
Support for osteoporosis, insomnia, joint pain, power surges, brain function, balance, weight gain, and heart issues. Come join Athena Flegas who has experienced all of these midlife challenges and has found great support from her yoga practice as she moves gracefully through her 60s. She will gently guide you through yoga poses and help you find the best way to do them for your body. This is a great workshop for peri-menopause, menopause, and post-menopause ages 30–90. Some yoga experience is necessary.
Yin Meditation-Dance
Let your body move to the rhythms of the music. Let your soul sing its inner song. This class will inspire fun, creativity and imagination as you move in ways you have never imagined and connect with your Yin essence - your deep feminine nature. Each dance will begin with a Heart Centered meditation that will help us connect to our heart and from our heart connection WE DANCE!. Join us to experience how connecting to your heart in meditation and your personal dance expression of that connection can empower you to live more fully through the sacred feminine. No dance or meditation experience necessary!
Yoga for Gardeners
Has all that mulching, planting, weeding, and trimming left you with a sore back, tight hamstrings, and tired shoulders and hands? Join us for a therapeutic yoga session that will focus on bringing flexibility and strength to the back, legs, arms, and hands. Learn how to use yoga to prepare for and recover from you time working in your garden.
Yoga for Kids: Ages 6–10
Breathe like bunnies, roar like lions, stretch like dogs, and be still as a tree. Learn yoga in clear, simple, safe and fun ways. We play games and explore nature through the yoga poses. We take guided adventures during the quiet time

Yoga for Stiffs: Ease Arthritic Joint Pain
This two-hour workshop will help reduce your pain, stiffness and discomfort from arthritis and other joint problems by focusing on yoga poses to increase flexibility and mobility so that you can move without pain. The emphasis will be on a safe and effective yoga practice which incorporates traditional yoga poses with modifications to help you prevent flare-ups. Breathing practices, guided imagery, and some restorative poses will be included as well as simple warm-ups and gentle flows which can easily be done at home. People suffering from arthritis, lupus, and other joint problems resulting from injuries or illness may benefit from this workshop. Beginners are welcome!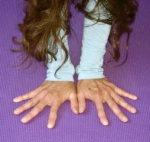 Yoga for Teens (Ages 12 and up)
The Yoga for Teens workshop is designed to address the unique lives of teenagers; a time heaped in change. Yoga offers stable ground that enables teens to navigate this time in their lives with strength and flexibility. The workshop will help students build strength and flexibility in the body while practicing yoga concepts that they can use in daily life. Relaxation techniques, awareness, and breathing practices will help teens navigate this exciting time of growth.
Yoga for Winter Blues
Do you find yourself struggling a little with your emotions especially during the winter? Yoga is such a great way to balance you emotions when you are feeling anxious, depressed or suffering from cabin fever. Come and learn poses to calm your emotions and lift your spirit.

This workshop is sure to put you in a great frame of mind to enjoy your life to the fullest no matter what the weather is doing!